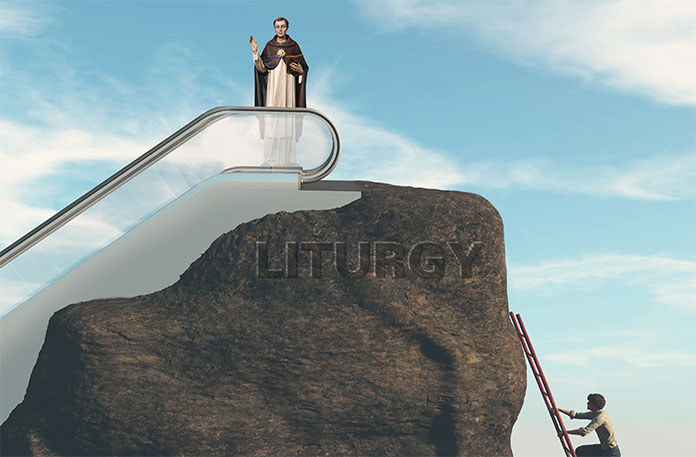 Easy question. Easy answer. No. We are not smarter than St. Thomas Aquinas.
Bad news recently hit the USCCB (U.S. Council of Catholic Bishops). Sixty-seven percent of self-identified Catholics don't believe in the Real Presence Doctrine (Pew Research). How was this a surprise to their Excellencies? When faith formation is neglected for two generations, there are consequences. And so, consensus was reached: time to buckle down on catechesis. The Church oil tanker committed to pivot.
Oddly enough, the reform agenda omitted lex orandi, lex credenda (Latin: the law of what is prayed is the law of what is believed).
This feels like one of those things that really isn't going to work. Liturgy is the foremost way that Catholics learn—or unlearn—their faith. What makes faith in the Real Presence grow and strengthen? Theologically-correct, but dry-and-abstract homilies? Or has a more holistic approach proven more impactful? Common sense and Church history indicate there's more to faith formation than words, words, words. Thank you, Shakespeare.
Pope Urban IV showed wisdom when he instituted the Feast of Corpus Christi on August 11, 1264. His innovations included the beautiful Corpus Christi procession. It remains popular today in many Catholic countries, while abandoned in the United States. Even better, Pope Urban asked St. Thomas to write hymns for the Corpus Christi Mass. The great saint put quill pen to parchment and produced five masterpieces: Pange lingua (Sing my Tongue), Tantum ergo (Acclaim Him), Panis angelicus (Bread of Angels), Laude sion (Praise the Savior), and Adoro te devote (I Devoutly Adore You).
Unfortunately, most Catholic parishes neglect these beautiful, profound hymns in favor of inferior contemporary songs. No more musical bread and fish for us, only double helpings of stones and serpents.
Hymns assist faith formation through the artistic unity of words and melody. The imagination of the heart is stirred by excellent poetry, accurate theological content, and beautiful music. When art rules, the whole becomes greater than the sum of its parts. The truths of faith are the seedbed of great sacred music.
Unfortunately, the opposite is also true. Banal words set to banal tunes express vague spiritual sentiments, not Catholic truth. Mediocre theology finds expression in mediocre worship songs. People lose truths of faith as these songs are repeated over and over.
Here's the first verse and refrain of a common contemporary Eucharistic worship song:
Let us break bread together on our knees.
Let us break bread together on our knees.
Refrain
When I fall on my knees with my face to the rising sun,
O Lord have mercy on me.
What?
Let us break bread together could mean a stale French baguette, cracked over the knee like a stick of wood for the campfire. When we sing this song (or listen to the cantor while shifting uncomfortably from foot to foot hoping it will soon end), we're standing. We're not on our knees. We may or may not be facing East. Is it most important to memorialize that we're together? Where's Christ? The question doesn't even arise. To make matters worse, the tune is bland yet sugary, with a certain thumb sucking quality.
Comparatively, consider the first two verses of Adoro te devote (I Devoutly Adore You), by St. Thomas Aquinas as translated by Gerard Manley Hopkins, the great English Jesuit poet. The traditional melody flows with quiet, contemplative dignity. The hymn accomplishes exactly what St. Thomas intended. It gives artistic expression to true theology and strengthens the one's faith in the Real Presence.
Godhead here in hiding, whom I do adore,
Masking by these bare shadows, shape and nothing more,
See, Lord, at thy service low lies here a heart
Lost, all lost in wonder at the God thou art.
 Seeing, touching, tasting are in thee deceived:
How says trusting hearing? that shall be believed;
What God's Son has told me, take for truth I do;
Truth himself speaks truly or there's nothing true.
Why choose mediocrity when we have excellence? It's not just music. It's whole liturgy. Lex orandi, lex credenda (the law of what is prayed is the law of what is believed).
Choices have consequences. Most Ordinary Form parishes seem to prefer liturgical mediocrity, so weak faith in the Real Presence should come as no surprise.
Are we smarter than St. Thomas Aquinas? No. We are not.